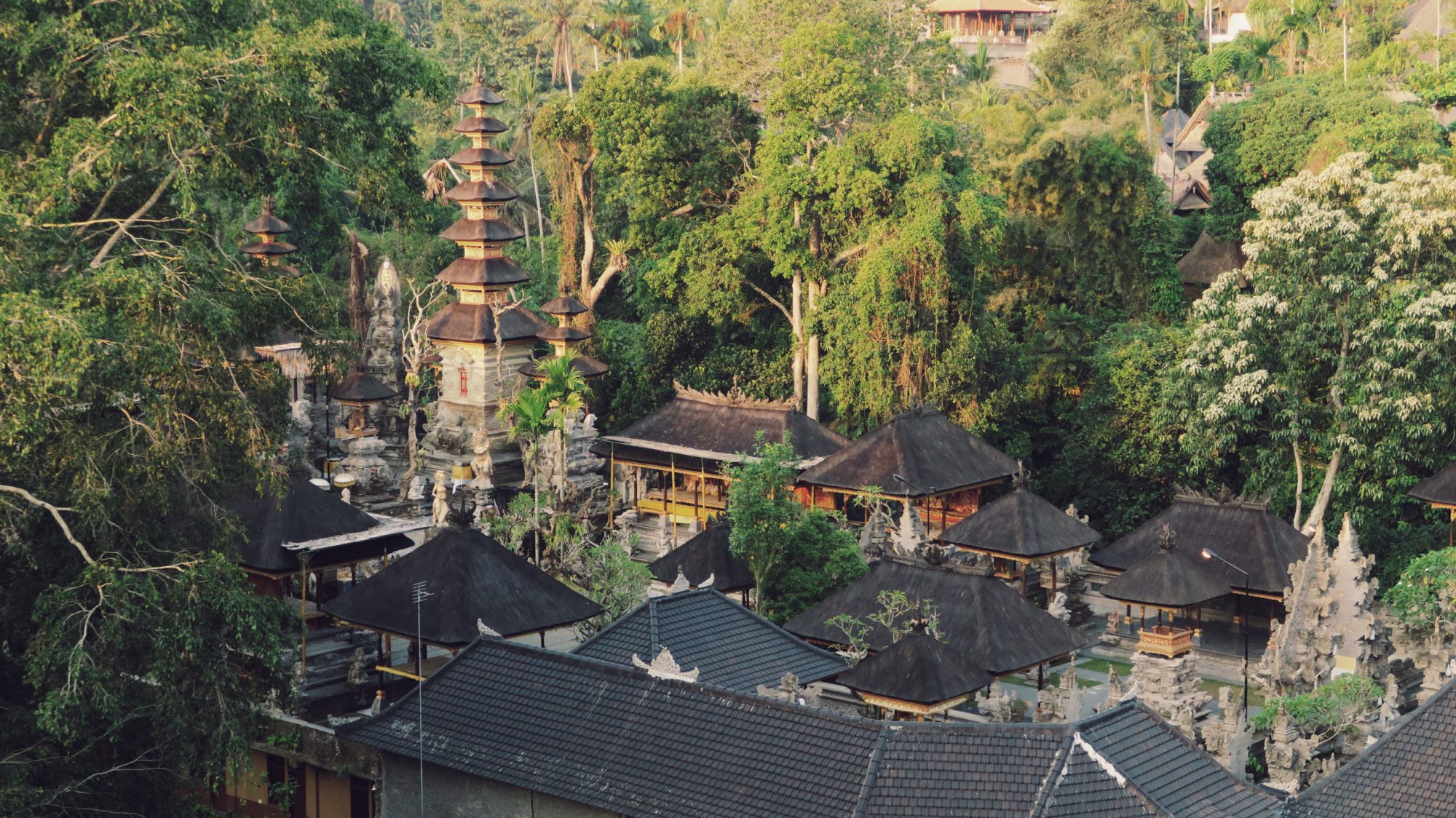 After my time in Japan, I decided to fly to Singapore for a couple of days before my final journey back to the UK. Then I realised how close to Bali I was…
I have a number of friends who had already visited the Indonesian island, all of which raved about its beauty and the fact that living as a tourist there is exceptionally cheap due to the currency difference. I also knew that an old friend friend of mine, Tariq Amawi, who I had not seen since 2007, was now living and running his own parkour gym on the island. So I shot him a message, the stars lined up and the next day I was on a plane. Even more ironic, I planned to stay for a weekend, and I ended up staying nearly three weeks.
In that time I climbed an active volcano, got quite a surprising amount of training in, ate some of the most delicious food I've ever had and saw stunning rice fields, jungles and beaches. I also rode a scooter for the first time in my life, which if you have been to Bali, you know is more or less a trial by fire. The road and traffic culture is more or less 'as long as you don't die, go for it' and as a complete bike beginner, it was definitely an experience. My images from my time follow…
Flying into Bali, I got to see the mountain on the neighbouring island of Lombok. My Canon G7X was in my bag, so my iPhone picked up the slack on this one.
Within a two hours of landing, I was with my buddy Tariq, enjoying this fantastic pool and the accompanying sunset.
Bali has a lot of temples, and they all seem to have this style of building. Its strange because wherever you go, you'll see this kind of architecture, even on homes and even one of our hotels. It makes the country have a character which I quite liked.
Tariq and I went for a wander by the beach, found a building with unfinished foundations, and got to training some strides. Since my knee surgery, my personal training has been quite limited, but it was nice to be able to play around with movement here and I could feel my physical confidence returning the more I moved.
Then when we were both all sweaty, I realised the spot we were at would actually look cool for some photos.
Tariq has been modelling recently, so we took a couple of shots.
The sun crept its way down the horizon, turning the sand into a shimmer of orange and magenta.
Echo beach, the sand here was a kind of browny black colour, because its volcanic rock. It was so strange looking!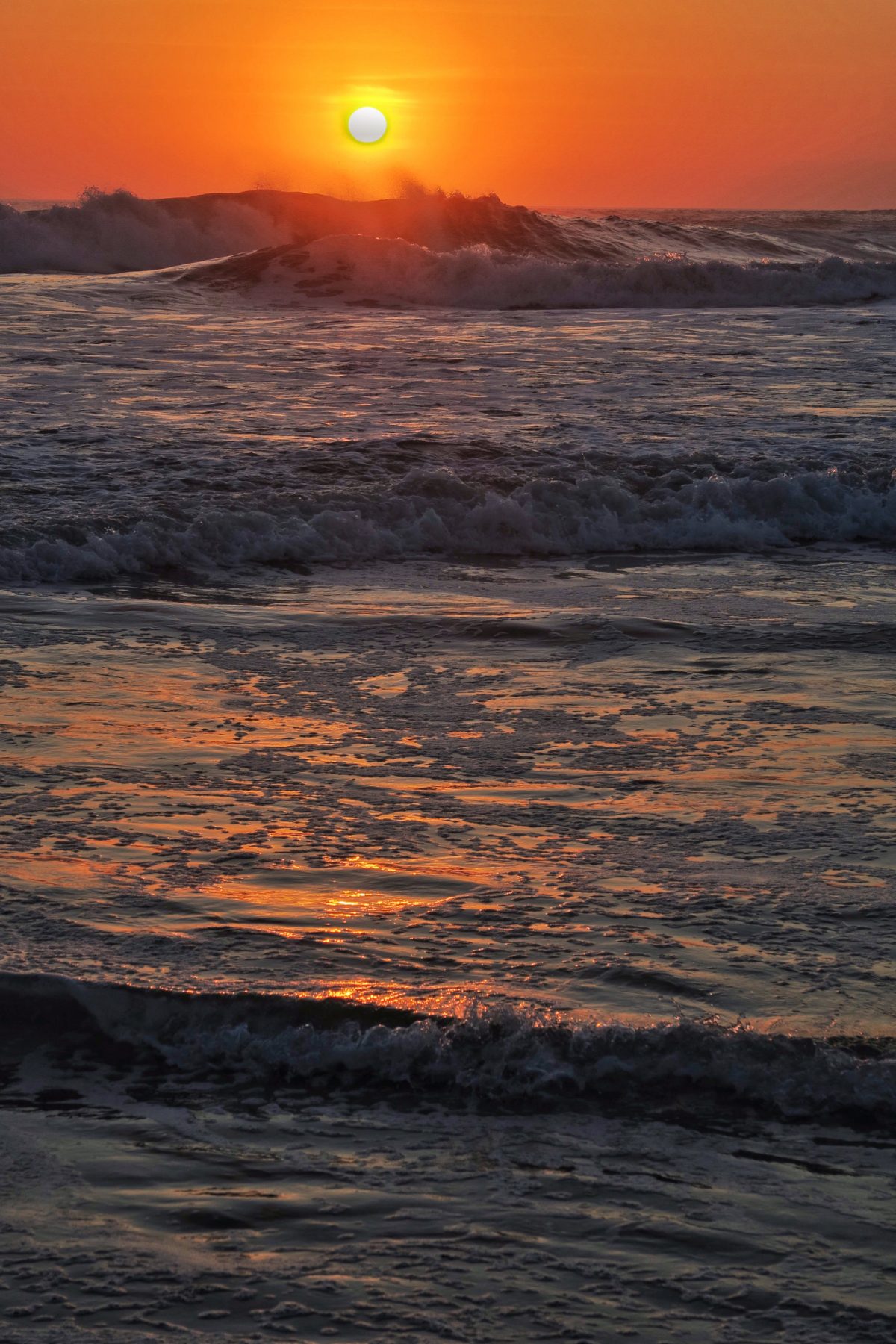 Perfect.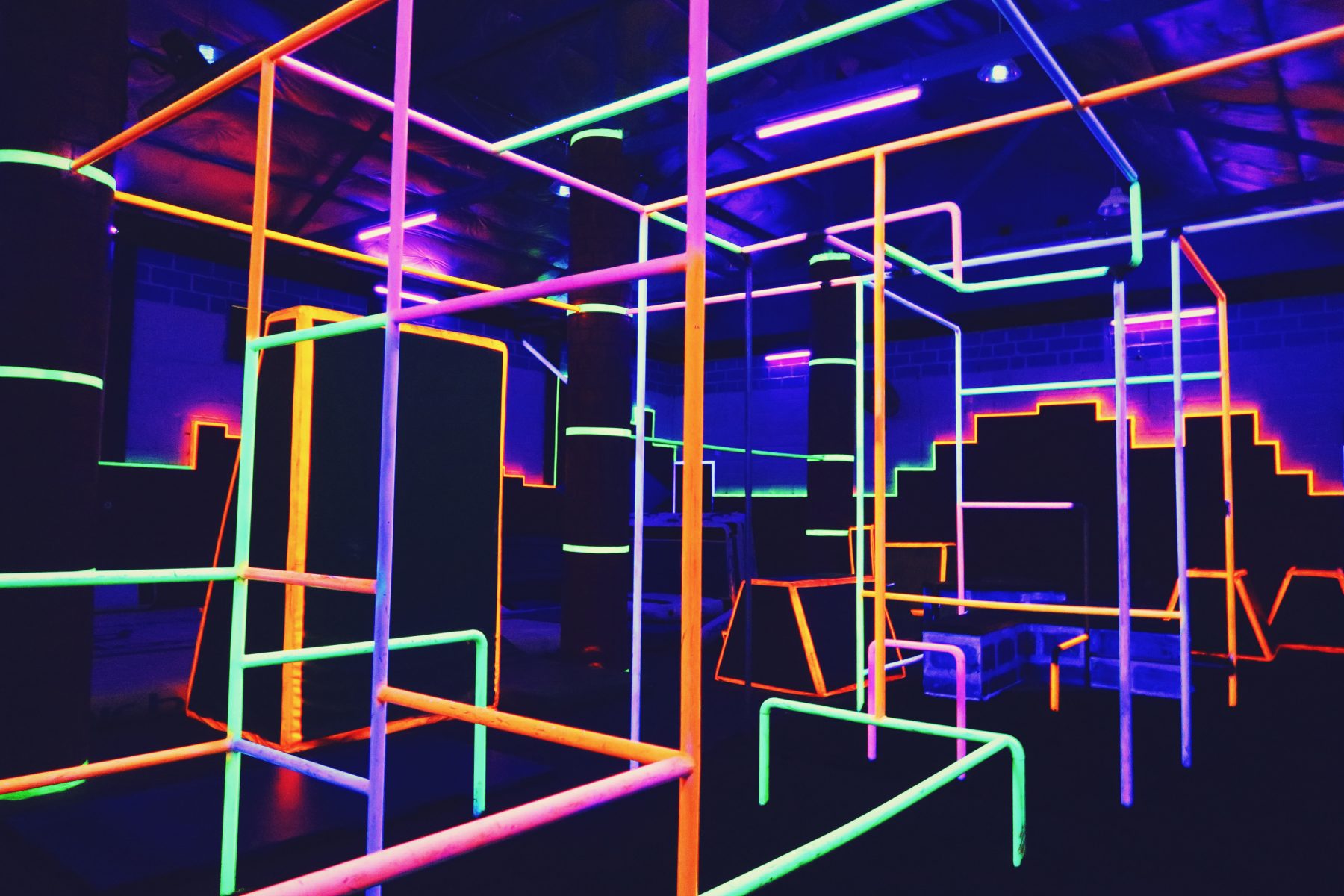 The Superhero Factory in Bali. One of the coolest little gyms I've been to, and totally deserves more recognition. The setup is quite creative, with lots to do for all levels of ability. I was lucky to meet up with my european parkour friends, Andi and Redmer, and while they are significantly better than me at movement, we all found things to train in this space that were enjoyable. Its lache setup is especially varied.
The other cool thing, that you see in these photos, is the gym is all painted in glowing UV paint, so at night it glows like a gym and a nightclub had a child. Its super cool!
I'd heard about how one of the things to do while visiting Bali is to climb one of its volcanos to watch the sunrise. So after a little organisation on the part of Tariq's wonderful girlfriend, Anastasia, we had a trip planned and were on the way.
Took a selfie for my mum. Hi mum.
I'm relatively sure we had to effectively pay off the mafia, because although you apparently 'need' a guide, the mountain was relatively easy and anyone with a general level of fitness and a torch could climb it alone. After reading online, it seems that there is something going on and its a way to make money from tourists (ergo if you climb alone, you might get rocks thrown at you or something). Oh well, price of entry was worth the experience for me, the view was stunning.
The one nice thing of having a guide was that she knew a good amount about the mountain itself. She took us to this cave which was pretty cool, and showed us lots of spots where hot steam was coming out of the ground.
Anastasia taking a moment to enjoy the space.
I got very sick toward the end of my time in Bali, and this lady kindly took epic care of me along with Tariq.
Tariq looking like an adventurer.
The higher peak is Batur. Its 1,700ish metres above sea level, so you won't get altitude sickness. It took maybe 1-2 hours to climb up, and then a hour back down. Generally it's just a steep rocky hill, and there were maybe a thousand tourists at the top for sunrise in the end, so it's quite accessible.
While most of my time in Bali was spent in Seminyak, near the more built up areas, we popped out to Ubud for a couple of days.
Ubud is more the kind of Bali thats my pace, temples, trees and tranquility.
Tariq and I made our way down into a little river to explore.
Of course, when there are jumps to be made, jumps will be made.
It felt like something out of an Indiana Jones movie!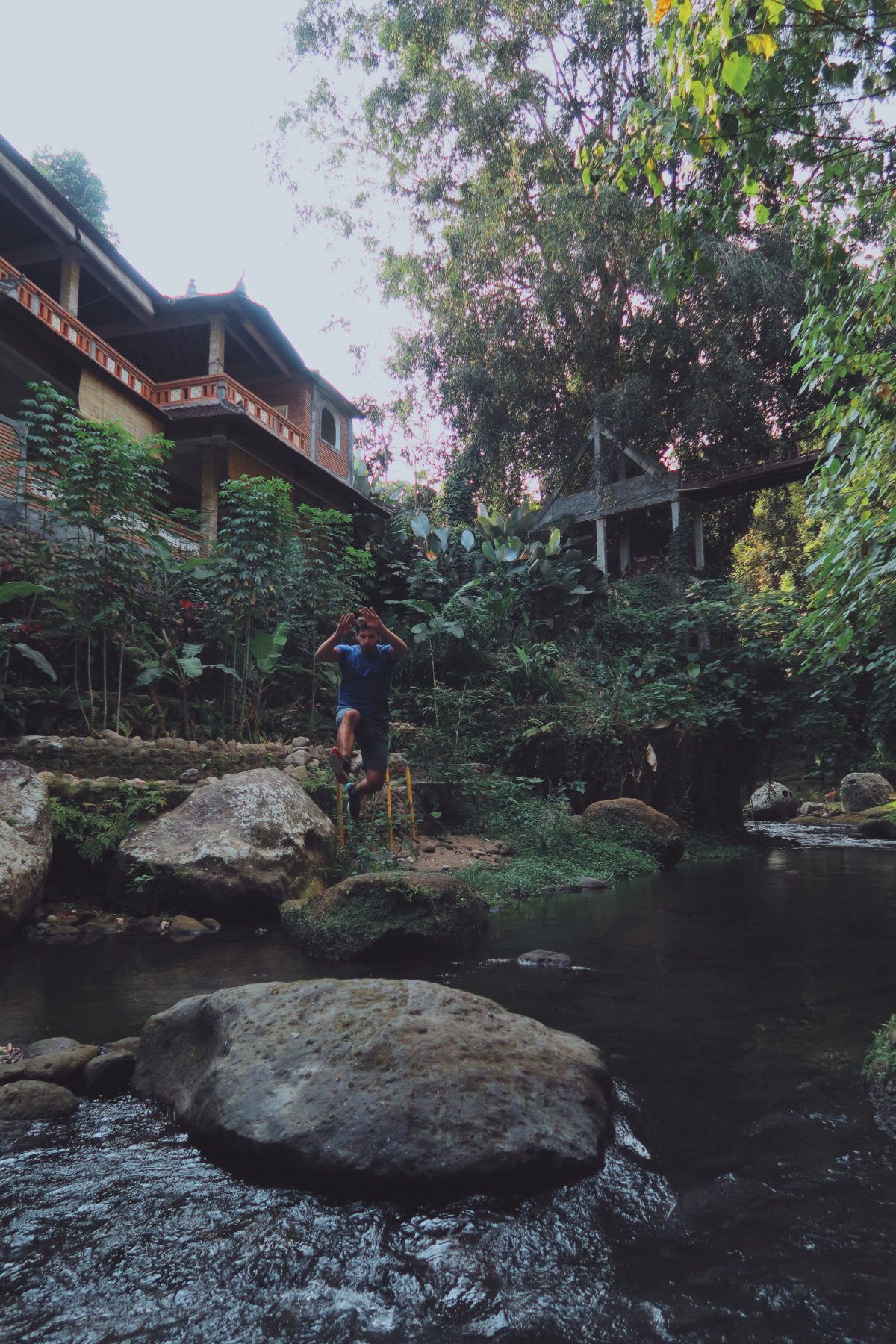 We had a great time playing around this stream.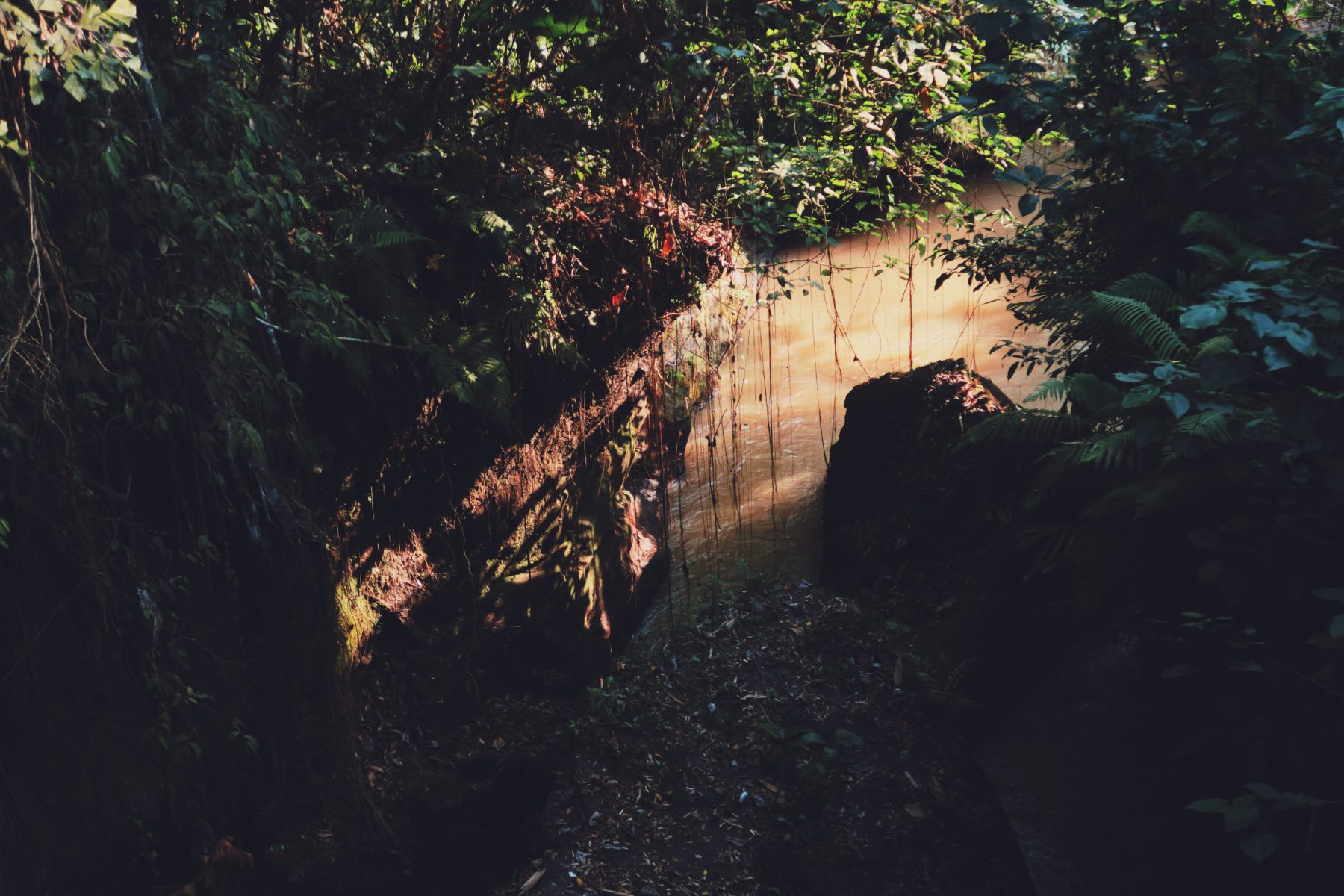 Its so fun to be surrounded by all this wild foliage, totally unlike the gardens in Japan the week before.
We then took a hike along a ridge out to the rice fields.
Ubud is much hillier than Seminyak, so it was a bit more challenging to get around. The training, walking, heat and relatively 'good' diet (made easy by plentiful and cheap fruits and veggies) made me lose quite a bit of weight in Bali.
These houses on stilts are so cool looking.
We made it to the rice fields, which was another sight to see. The layers are cut into the hills so you can grow the rice more easily and work better, and it looks so interesting.
A simple life.
This was the courtyard outside my guesthouse. Waking up and stepping out into this stunning space was just amazing.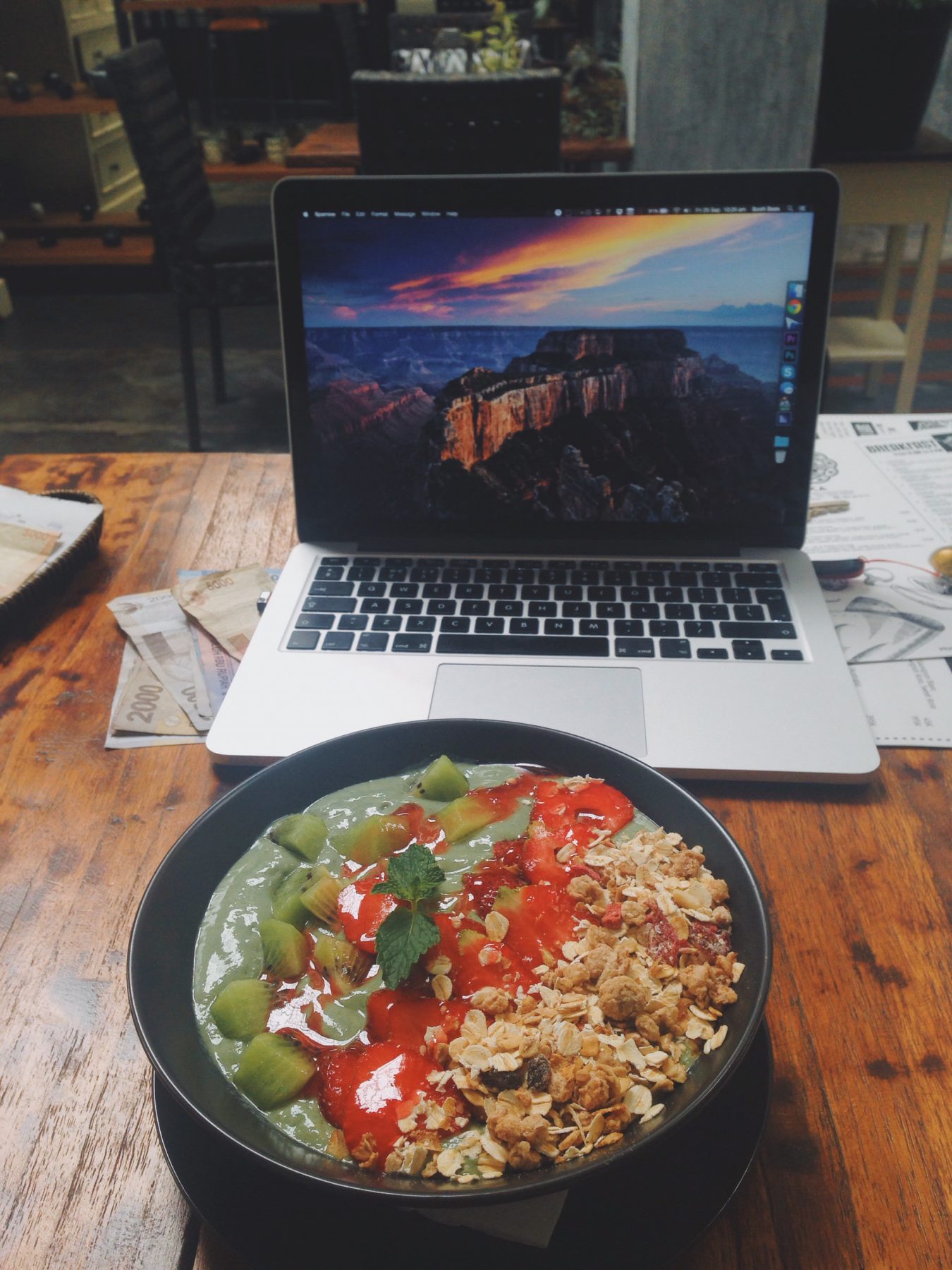 And I have to include a rare photo of food! Avocado and strawberry breakfast smoothie. This was something like £1.40 which would be utterly unheard of back home. Wrapping up my asia trip posts, I have one more from Singapore to come, and then possibly still a final Japan post with my images from my 5D! All of the blogging!